Congratulations on signing up for Advanced Vault and taking your vault to the next level with a managed vault that combines core vaulting, lifecycle functionality, and data enrichment of payment methods with rules and best practices.


Enabling Advanced Vault:

The first step is to log into ID to ensure you've enabled Advanced Vault at the Organization level.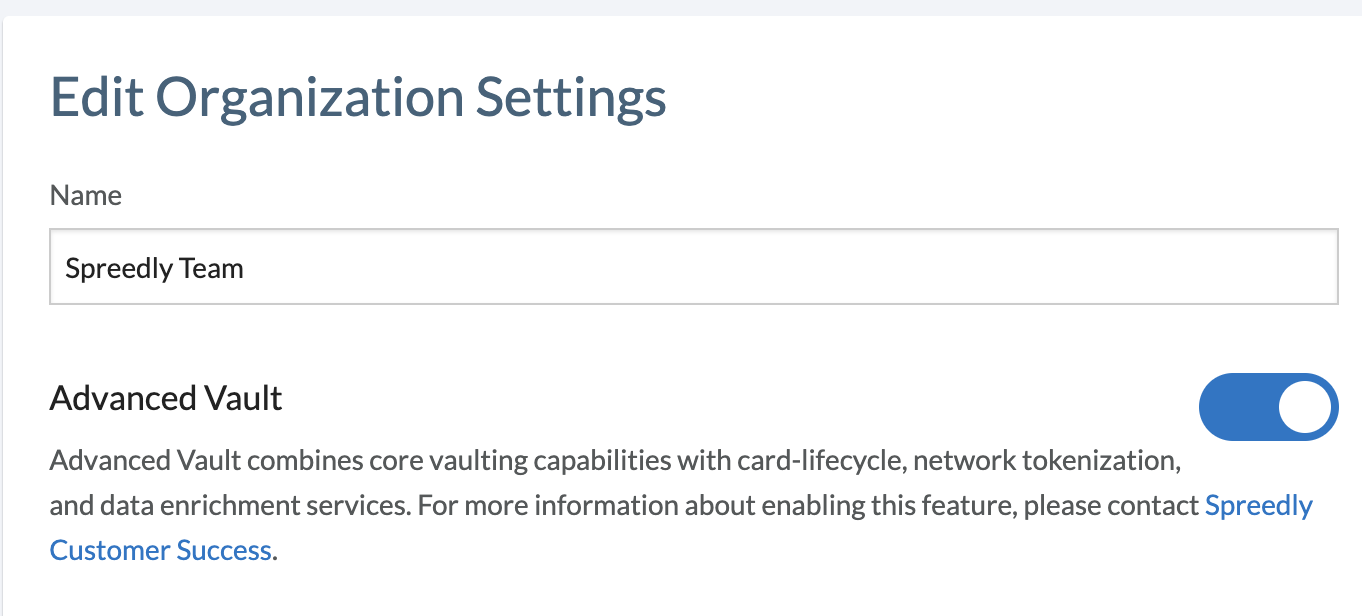 Next, you'll need to enable your desired environment(s).
Environment(s) will be defaulted off, so you must select the environment(s) that should be enabled.

All Payment methods are defaulted to managed: true

You may elect to unenroll select cards from AV via a non-billable API
Once you have Advanced Vault enabled, you now have access to the features under Advanced Vault.

Features:
Enabling Account Updater

Identify Your environment and/or cards you'd like to make eligible for Account Updater.
For planning purposes, please enable 24 hours before the 1st or 15th of the month for your initial run only. Once enabled, your Spreedly vault will automatically update twice a month, on the 1st and 15th. MasterCard updates will happen immediately.
Enabling Network Tokenization


Complete the TRID Form
For planning purposes, please plan for a time period between 2 weeks to 2 months. This being the case, we recommend requesting TRIDs as soon as you are interested in using Network Tokenization.
Questions? We are happy to help!
For non-Spreedly customers, fill out our Contact Us form by clicking here. For active Spreedly customers, please email success@spreedly.com for more information.