The Spreedly Dashboard offers an interface for you to view, measure, and analyze payment performance across your business. The dashboard provides a wide range of analytics, insights, and lookup capabilities for all transactions flowing through Spreedly.
When you first log into Dashboard, you'll get an overview of your account. This includes the number of gateway types currently retained and information related to your current plan. You'll also see a quick snapshot of transaction performance for all your environments with an ability to filter on date and environment where available.

Not seeing any graphs? Users that only have test transactions will not see graphs or transaction information here, as Insights is only pulling from your production history.
Navigating between multiple organizations
If you're a developer with access to more than one Spreedly organization, you can quickly switch between organizations from the Dashboard.
In the upper right-hand corner, click on your username (the e-mail you signed up with), and a drop-down menu with all your associated organizations will appear. Click on the one you'd like to view, and your Dashboard will automatically change to the organization you selected: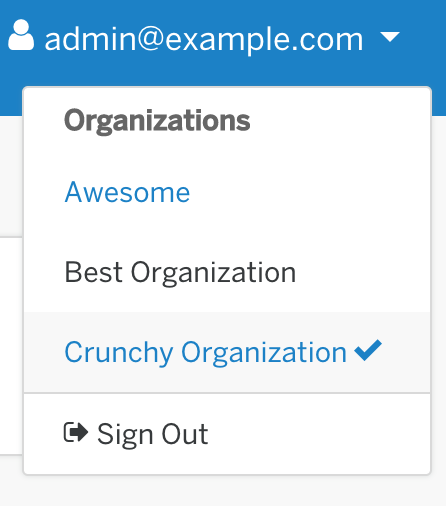 Get to anywhere from the sidebar
Our sidebar helps you navigate to key points in the Spreedly ecosystem. You can access Insights, check out recent transactions, view gateways, manage your account, view billing details, get in touch with support, and see our developer docs:

Some of our sidebar links will take you outside of the Dashboard - these are noted with the
icon.
Check out our full Dashboard guide for a more in-depth view of the dashboard's functionality.