To ensure our systems and your data is as secure as possible, beginning June 13th, 2022, all Spreedly users will use Multi-Factor Authentication to log into id.spreedly.com.
When logging in to Spreedly systems, you will be guided through the Welcome and Login screen and asked to enter a valid email address and password.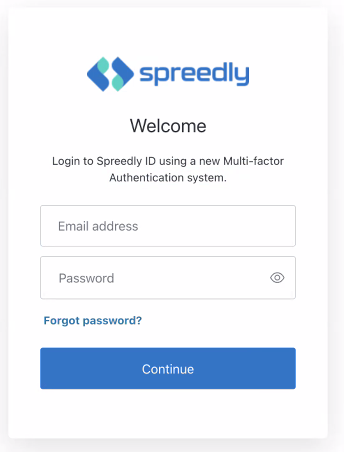 You'll also be prompted to copy and save a recovery code, which you will need if you log in without your device. It is recommended to save this code and store it in a safe place.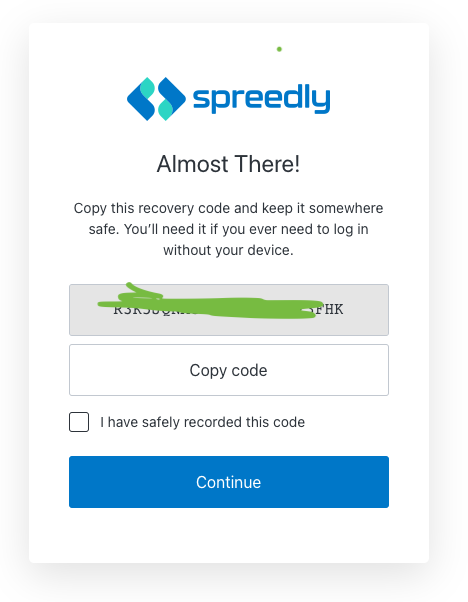 If you forget your password, please select the link under the Password field, Forgot password?, and re-enter your email address. A reset password email will be sent to your inbox and then you can successfully complete the login process.
Upon successful login, a QR code will be required to scan for authentication, using one of the following iOS/Android mobile apps: Authy, Google Authenticator, Auth0, or Guardian Microsoft Authenticator.
Once the QR code is scanned with an authentication app, the app will provide a one-time use, six-digit code that must be entered here to complete the authentication process.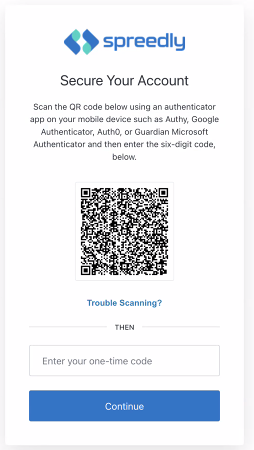 Once the QR code has been authenticated and the proper six-digit code entered, you will have the option to select a checkbox to Remember this device for 30 days. If you log in with a new browser, new device, or from a different ISP, or if you clear your cookies, you will be required to re-authenticate, even if you selected the checkbox.
That's it! You've successfully fortified your Spreedly account with multi-factor authentication security.
If there are any questions or concerns with this login requirement, please reach out to us via email at support@spreedly.com or submit a request through our Support site at support.spreedly.com.